Celebrating the life of Tony DaCosta
Written by on
The 14th July 2023 marks the one year anniversary of the passing of our former friend and colleague Tony Dacosta,  Entrepreneur, Radio Engineer and Presenter.  Tony was a true inspiration and touched countless lives. We can all individually remember, and reflect on those special moments.  Tony, a lover of all genres of music and founder of Soul Radio UK, was the stimulus in forming Universal Soul Radio, and will always be with us in our hearts, and forever continue to inspire us  to  "Do what we love and love what we do with a passion…life's too short"  May he continue to rest in peace.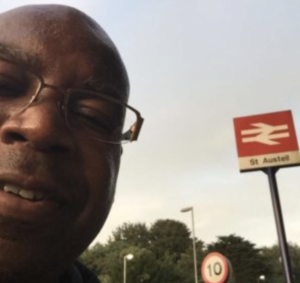 A blog written by Tony 2016
It's August 2016 and I'm trying to describe in as few words as possible my lifelong passion for music and the addiction of record collecting. Both ingrained habits I've long stopped trying to break.
I could talk about the personal feelings generated by the sounds that appeal to me but I might give the impression of being a dosed up closet hippy. My late Father was my earliest influence as far as the way my ears work. He was a high end audiophile and a lover of many types of music, but the sounds I responded to as a child was his jazz, soul and blues collection. Couldn't tell you the first record I bought but King Oliver and Louis Armstrong where firm favourites in our house during the 1970's. The 1980's saw the emergence of unlicensed radio and stations such as LWR, JFM and Horizon which had a major impact on my musical tastes and collecting habits. I was given the opportunity to present on unlicensed radio during 2003 and embraced it as a breath of fresh air. It enabled me to explore the more adventurous side of soul, jazz & dance, allowing me to step away from the more commercial club led arena and hold true to the original unlicensed radio pioneers.
My Futuresoul concept has been running since 2005 on various platforms. The aim of each show is to deliver a positive message through the wonderful world of black influenced or inspired music. Taking a retrospective view to appreciate the present to look forward to the future.
Tony Dacosta 'Tone'
---